Energizer Alkaline AAAA Batteries - Pack of 2
SKU: 7638900202410 MPN: E300784302
Spend £80 to get 10% off your next order at Maplin or Maplin Pro! See more
Can we deliver to your address?
Enter your postcode to see if you're eligible for faster, emissionless delivery in London.
Delivery in 2-4 days: £3.49 or 1-3 days: £6.99
Delivery
2-4 days: £3.49 / 1-3 days: £6.99
Order within 19hrs 0mins for dispatch tomorrow
View full details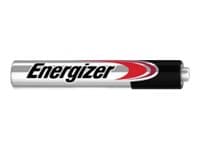 Energizer Alkaline AAAA Batteries - Pack of 2
About this product
The Energizer Alkaline AAAA Batteries provide long-lasting power for everyday devices. A long shelf life means these alkaline batteries will be ready when you need them. They are designed for your everyday electronic devices e.g. Glucose meters, keyless entry, headsets, Bluetooth devices, LED penlights and many more.

Long lasting 1.5V alkaline battery batteries for everyday use. Wide operating temperature range -18C to 55C.