Fujifilm Instax SP-3 Share Square Wireless Photo Printer - Black
Skip to product information
Key Features
Print photos from your smartphone
Compatible with iOS / Android
WiFi connectivity
Image size: 62mm x 62mm
High-speed printing in 13 seconds
SKU: 4547410356953 MPN: 16558138
£174.99
£145.83 excl. VAT
Get 10% off your next order when you check out
See more
Can we deliver to your address?
Enter your postcode to see if you're eligible for faster, emissionless delivery in London.
Delivery in 2-4 days: FREE or 1-3 days: £6.99
Delivery 2-4 days: FREE / 1-3 days: £6.99
Order within 20hrs 0mins for dispatch tomorrow
Shopping for business or education? Apply for a credit account.
Shopping for business or education? Apply for a
credit account (subject to approval).
View full details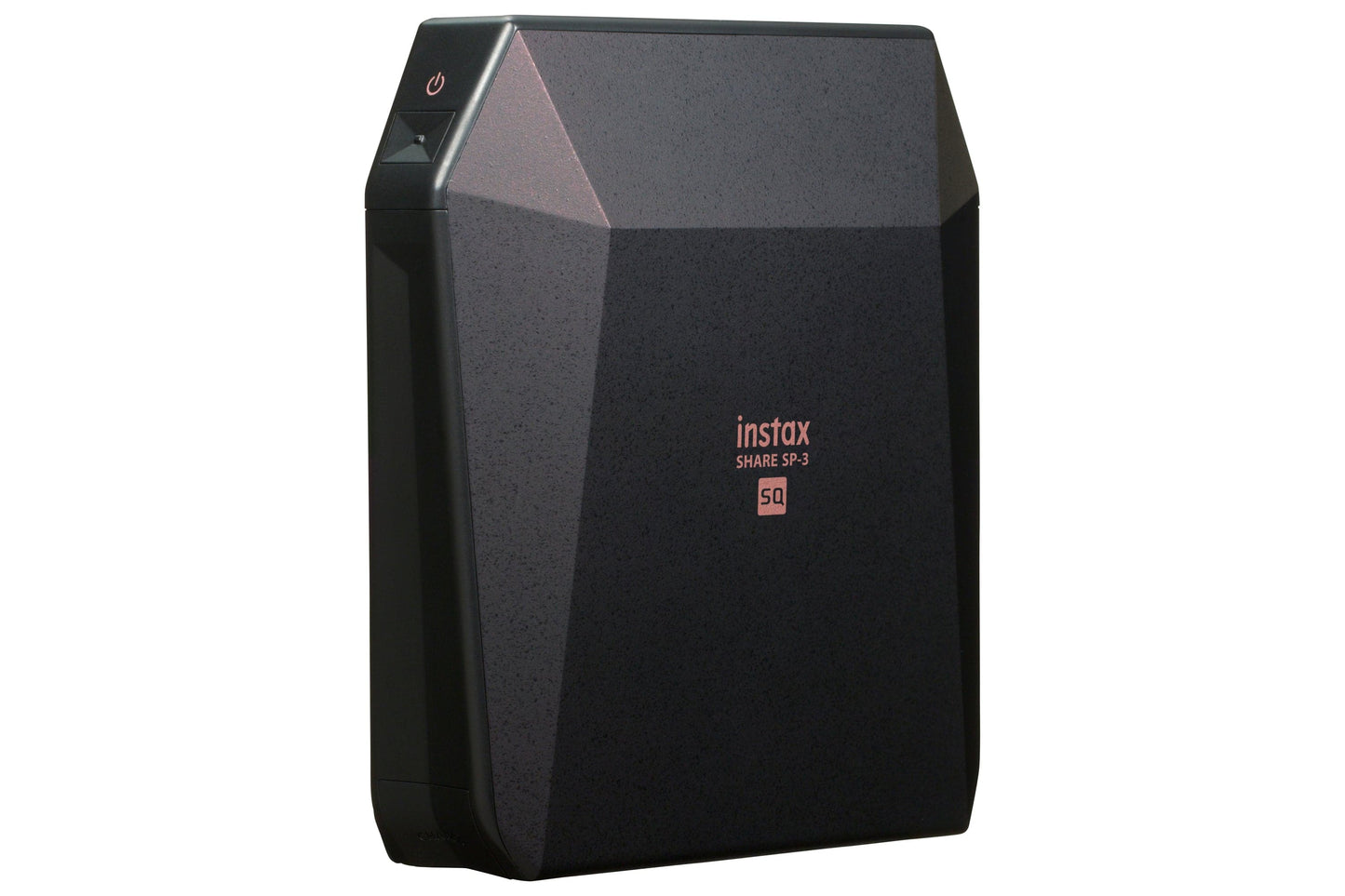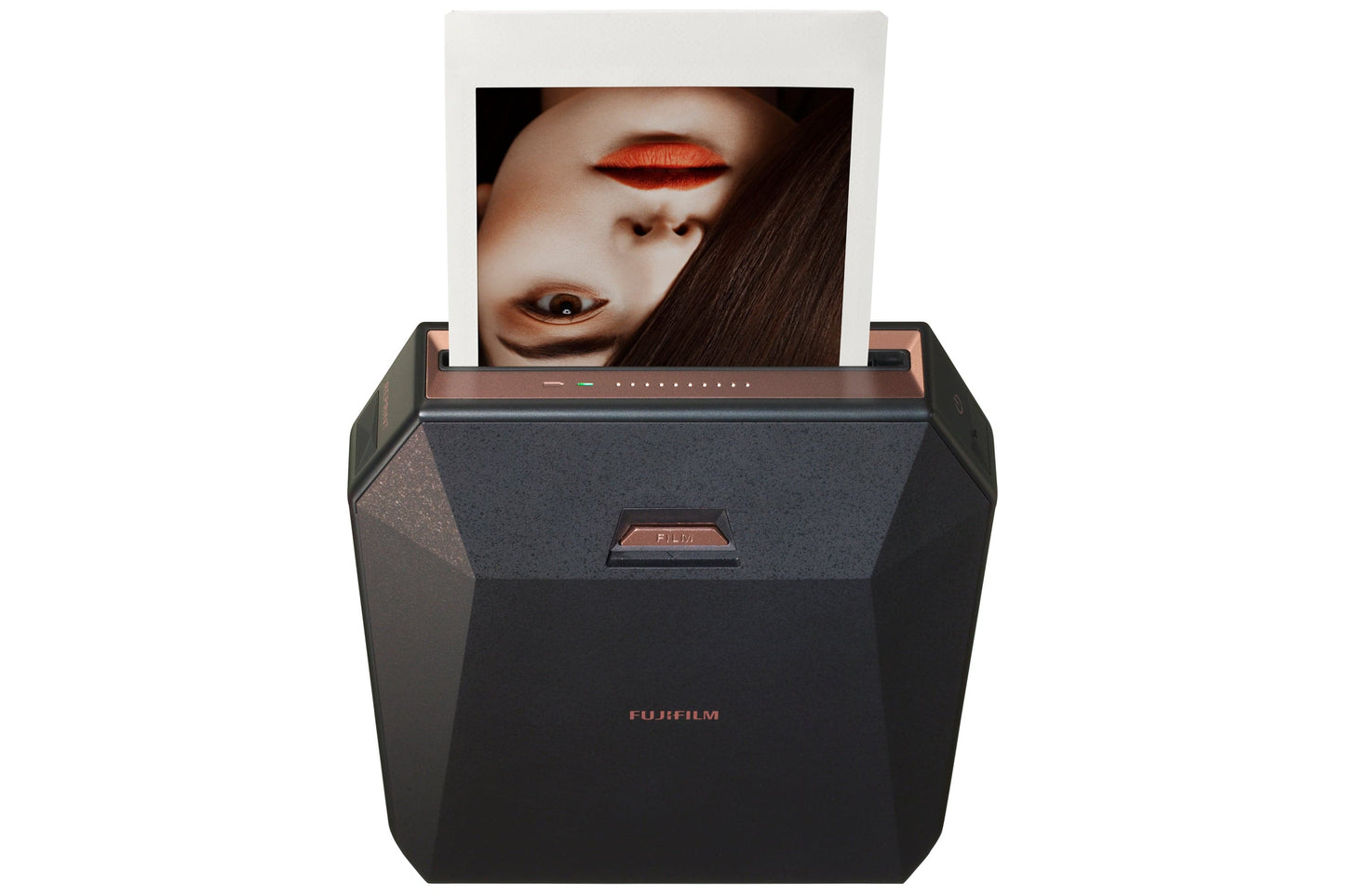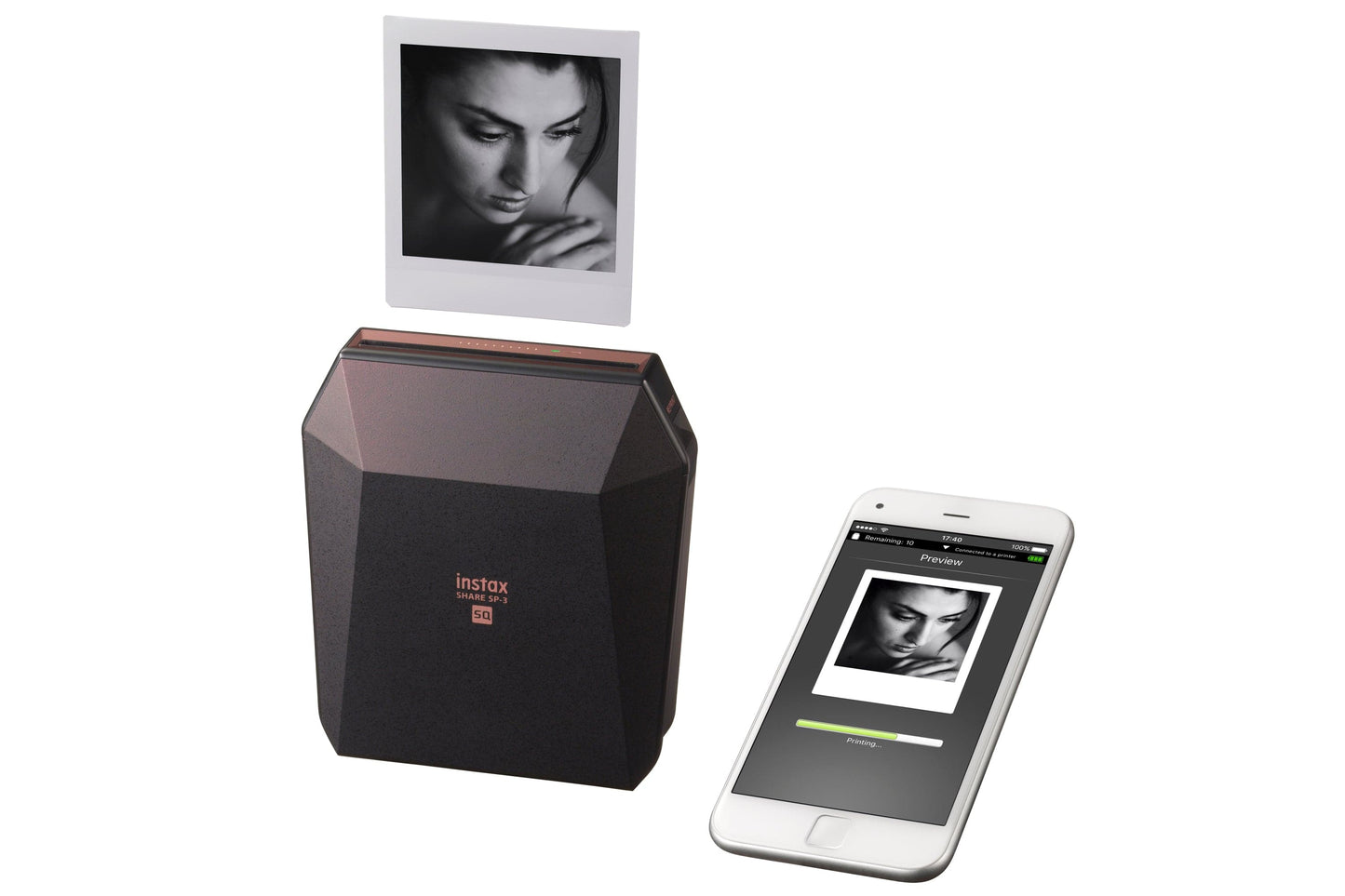 Fujifilm Instax SP-3 Share Square Wireless Photo Printer - Black
About this product
Select your best shots from your smartphone and get Instax prints by just transferring the shots from the app to SP-3 via Wi-Fi connection. With the Fujifilm Instax SP-3 Share Square Wireless Photo Printer you can also print images from your Instagram, Facebook, Google Photos, Flickr and Dropbox accounts.

High-speed printing in 13 seconds
A new laser exposure system achieves a faster printing time of 13 seconds from print data transfer to print output.

At the same time, printing noise is lower which makes your printing experience much more enjoyable.

High definition & high image quality ideal for photos
High resolution with print pixels of 800 x 800 dots and of 318 dpi clearly shows detailed gradations and the face expressions of a full-length portrait, characters, materials, etc.

Real-Time Template
When you select "Real Time Template and take a photo, the date, place, weather, temperature, and humidity are indicated in the frame. Since you cannot make a copy with this template, the photo will be the one and only in the world.

Limited Template
Each print is numbered so it looks like a limited item. A memory shared with people you cherish will be even more precious.

Social media sources
Template for printing images uploaded to social networking (SNS) service. With the profile photo and the number of likes indicated, the print offers great fun in tandem with SNS.

Filters for more printing fun!
Use Custom Filter to adjust brightness and contrast or use the Colour Filter for black & White or Sepia prints.

Fujifilm Intelligence Filter
The Fujifilm Intelligence Filter uses an optimum processing technology, Image Intelligence, which is based on Fujifilm's 80 years of experience and ever-advancing know-how. The technology gives real results - for example, to brighten up a photo that turned out too dark.

Specifications
Film – Fujifilm Instant Colour Film "instax SQUARE" (sold separately)
Film Size - 86mm x 72mm / Picture Size 62mm x 62mm
Film Developing Time – Approximately 90 seconds (Varies depending on the ambient temperature)
Recording Method - 3-colour exposure with OLED
Printing resolution – 318 dpi
Printing levels – 256 levels per colour (RGB)
Interface Standard compliance -IEEE802.11b/g/n, Operation frequency: 2412 MHz to 2462 MHz (11 ch)
Supported image format – JPEG, PNG
Printing time – Image recording – photo output (Feed out) Approx. 10 sec.
Approximate printing capacity – Approx. 100 prints (Based on our test conditions) *Varies depending on the conditions of use.
Compatible FUJIFILM X Series models: X-A5, X-E3, X-T2, X-T20, GFX50S, X-Pro2, X-T1, X100F
Battery - NP-50 battery. Charging time – Approx. 3 hours (Varies depending on the battery remaining level)
Power consumption – 3 W
Operating temperature – +5°C to + 40°C / +41°F to + 104°F (no condensation)
Dimensions - 116 mm x 130.5 mm × 44.4 mm (excluding projections)
Weight - 312g (without battery and film pack)