Sigma 150-600mm f/5-6.3 DG OS HSM I C Contemporary Lens for Canon EF Mount
Skip to product information
Key Features
Compatible with Canon EF mount
OS (Optical Stabilizer) function
Zoom lock switch can be set at any focal length
Minimized chromatic aberration of magnification
Lightweight and compact construction
SKU: 0085126745547 MPN: 745954
£869.00
£724.17 excl. VAT
Get 10% off your next order when you check out
See more
Can we deliver to your address?
Enter your postcode to see if you're eligible for faster, emissionless delivery in London.
Delivery in 2-4 days: FREE or 1-3 days: £6.99
Delivery 2-4 days: FREE / 1-3 days: £6.99
Order within 11mins for same-day dispatch
Shopping for business or education? Apply for a credit account.
Shopping for business or education? Apply for a
credit account (subject to approval).
View full details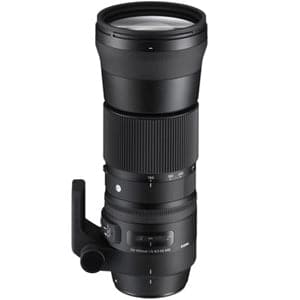 Sigma 150-600mm f/5-6.3 DG OS HSM I C Contemporary Lens for Canon EF Mount
About this product
On the one hand, the product concept of the SIGMA 150-600mm f/5-6.3 DG OS HSM I C Contemporary Lens for Canon EF Mount is to achieve the best optical and action-capture performance to meet the requirements of professional photographers. On the other hand, that of the SIGMA 150-600mm F5-6.3 DG OS HSM | Contemporary is to achieve a lightweight and compact construction for higher usability with similar specifications. It has put a special emphasis on its optical performance by incorporation of 1 FLD and 3 SLD glass elements, optimization of lens power distribution and minimized chromatic aberration of magnification. An issue for hyper-telephoto lenses in particular at the telephoto end, optical aberrations have been minimized throughout the zoom range. Dust- and splash-proof to facilitate photography in the field and featuring a detachable tripod socket for more convenient handheld photography, this lens is a lightweight high-performance mo
Lightweight and compact construction for higher usability
Compared to the SIGMA 150-600mm F5-6.3 DG OS HSM | Sports, it is more compact and lightweight, enabling easy handling and making it possible to do handheld photography for a longer period of time. The tripod socket is detachable so that the lens can be carried by itself. Without the tripod socket, it also fits well into limited space for storage. Moreover, the tripod socket is made of magnesium which is light and strong at the same time. The tripod socket may be detached and replaced with a rubber protective cover PT-11 to further reduce weight and make handheld photography an even more lightweight and convenient experience. This lens is the optimal choice for photographers who desire hyper-telephoto functionality while staying light on their feet.

Intelligent OS featuring updated algorithm
The OS (Optical Stabilizer) function features an acceleration sensor to ensure even higher precision. Two OS modes are available: Mode 1 for general photography and Mode 2 for motorsports and other applications requiring panning. In Mode 2, the acceleration sensor teams up with the Intelligent OS and its updated stabilization algorithm to deliver effective stabilization while you move the camera horizontally, vertically, or diagonally—regardless of the position of the lens. This feature helps ensure effective panning and outstanding capture of moving subjects. 
Note: This lens is incompatible with film SLR cameras with the exception of the Nikon F6 and Canon EOS-1V. 

Zoom lock switch can be set at any focal length
The new zoom lock switch enables the zoom ring to be locked at any focal length. It can be fixed at the photographer's desirable focal length, which allows stable shooting whether the lens is positioned upward or downward. It also helps during long exposure photography. 

Water and oil-repellent coating ensures pleasant photography experience
Forefront and rear lenses incorporate a water and oil-repellent coating that allows water to be wiped away easily and prevents oil and fat from sticking to the surface, even in challenging shooting conditions. At the same time, the maintenance of the lens surface becomes easier.